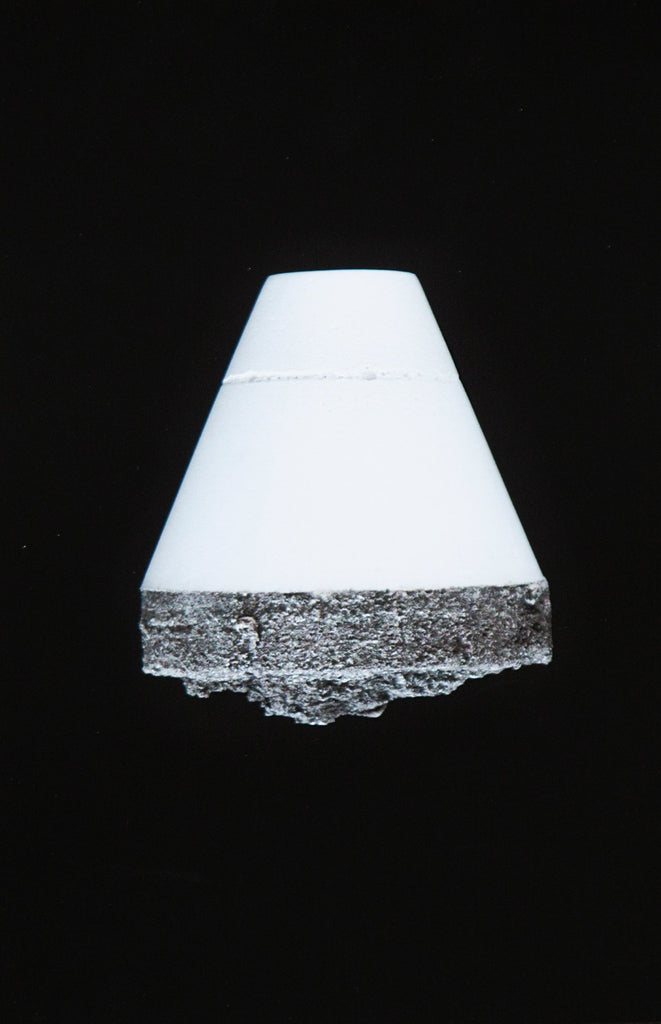 C-07 (part truncated cone on shallow cylinder)
Artist: Deborah Wang 
Title: C-07 (part truncated cone on shallow cylinder), from the series Earth Plugs
Archival inkjet on Epson Enhanced Matte paper, 9 x 6 inches, 2016
Edition of 20, signed and numbered by the artist
Description:
Produced in conjunction with the exhibition Loose Ends | Mary Grisey, Faye Mullen, Jérôme Nadeau, Deborah Wang, curated by Noa Bronstein. A signature card is included with the print, suitable for mounting on the back of a frame. The print is available unframed only at this time (we will be adding custom archival framing options in the future).
Part of a larger project, Phantom Limb, through which Wang considers encounters with death and reflects on loss, the Earth Plugs series of sculptures is produced through a process that casts soil together with various other forms. Taking on the appearance of gravestones, each sculpture's white surface is conjoined with an unearthed base, marking the space between seen and unseen worlds. (Text edited and excerpted from Loose Ends catalogue essay by curator Noa Bronstein.)
About the Artist:
Deborah Wang
is an independent curator and designer. She holds a Master of Architecture from the University of Waterloo and a Master of Fine Arts from OCAD University. She has curated exhibitions widely in Toronto, and exhibited and spoken on her own work both locally and internationally. Currently Wang splits her time as Creative Director of the Toronto Design Offsite Festival, a senior designer for superkül, and as a scholar/maker.