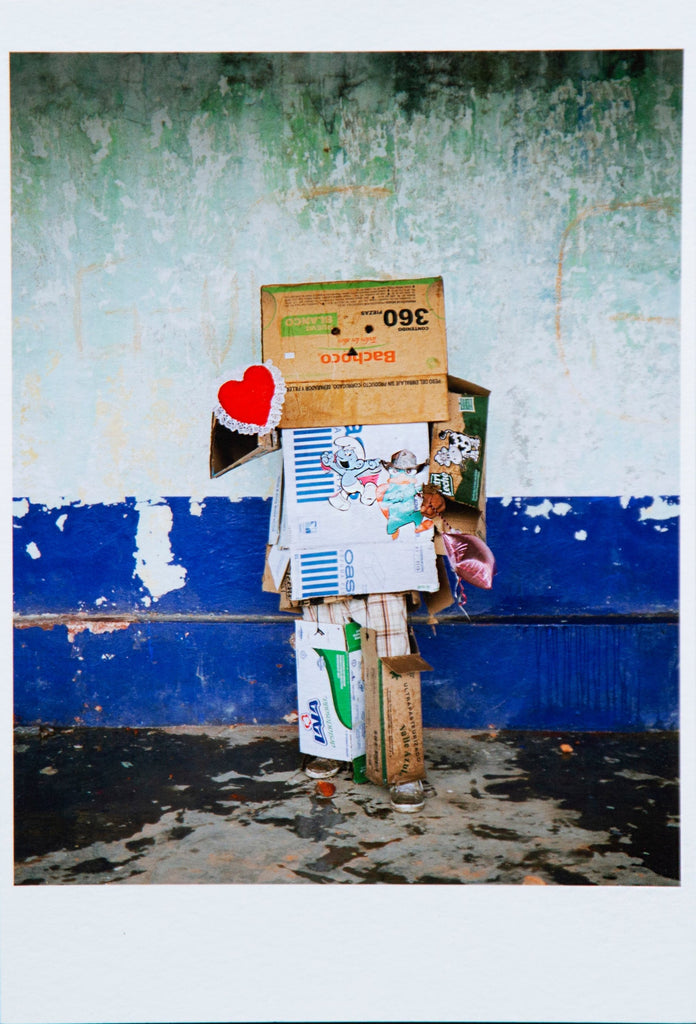 The New Gods (Cardboard Man)
Artists: Alejandro Garcia Contreras and Josée Pedneault
Title: The New Gods (Cardboard Man)
Genre: Archival inkjet on Hahnemühle FineArt Baryta, 9 x 6 in.
Edition of 20, signed and numbered by the artists, 2015
Description:
Produced in conjunction with the exhibition 
The New Gods | Alejandro Garcia Contreras and Josée Pedneault
, curated by Shani K Parsons. A signature card is included with the print, suitable for mounting on the back of a frame. The print is available unframed only at this time.
Featuring an extraordinary series of large-scale photographs and a selection of intricate sculptures and paintings, The New Gods examines fantastical rites of spring that have emerged spontaneously within Carrillo Puerto, an isolated village in the mountains of Chiapas. Elsewhere in Mexico it is a day of organized procession, penitence, and mourning, but in this small village it has evolved into an irreverent, chaotic, and carnivalesque celebration of the absurd. Drawing on an unholy mix of religious beliefs, local and popular culture, pagan traditions, and personal mythologies, participants don homemade costumes that are highly transformative, often verging on pure abstraction. The chimerical personalities they assume become an alternate pantheon of strange deities and demons, existing in opposition to the highly codified characters and narratives of the traditional Passion play.
About the Artists:
Alejandro Garcia Contreras has exhibited widely in Mexico at venues including the Museum of Modern Art and Museo Experimental "El Eco" in Mexico City, and Centro Cultural Jaime Sabines in Tuxtla Gutierrez Chiapas, as well as internationally. In 2008 he co-founded the Laboratorio de Artes de Chiapas and in 2009 he joined Neter, an initiative promoting young Mexican artists around the world. Garcia Contreras holds a Bachelor's degree in visual art from the Instituto Nacional de Bellas Artes in Mexico City and has received awards from Artfest International (2006) and the FONCA Jovenes Creadores (2009, 2014).
Josée Pedneault holds an MFA (hon) in studio art from Concordia University and has exhibited locally and internationally in North America, Europe and Asia. In 2007 she received the People's Choice Award at Le Mois de la photo in Montreal, and in 2010, her work was included in the Canadian Pavillion exhibition at the World's Fair in Shanghai. Pedneault is co-founder and board president of Les Territoires, a nonprofit organization providing opportunities to emerging artists and curators. She also teaches photography at Concordia.